The Chateau
The chateau de Pont-Rilly is situated at the end of a magnificent mile long paved avenue. Designed in 1765, by the architect Pierre-Raphaël de Lozon for the Marquis d'Ourville, it is one of the most impressive stately homes in Normandy. A chapel, pavilion, stables, barns, a mill and a bakery were added in 1774 enhancing the harmony of the chateau.
The extensive lawns on which donkeys and sheep graze are divided by small canals providing an ideal space for numerous swans and ducks. Peacocks roam in the gardens where attractive mixed borders blend into the surrounding greenery. The interior of the chateau has remained unchanged since the 18th century : Versailles parquet, exquisite wooden panelling and rare marble fireplaces, in each room, are the perfect setting for antique furniture.
From the end of July 1944, the chateau was the headquarters of Advance Section of Com Z.
The chateau was neglected for almost a century when, in 1982, the enthusiasm and dedication of its present owners, Jean-Jacques and Annick Roucheray saved it from its ruinous decline. They have expertly renovated the chateau and their home found its past glory again. They were fortunate to be in possession of miraculously preserved archives which is astonishing when considering the devastations suffered in WWII.
The guest rooms, in the chateau, are furnished with antiques and have en suite bathrooms. Breakfast is served in the dining-room where a welcoming fire reflects in the collection of copper utensils. Annick Roucheray, a gourmet cook, prepares her own delicious preserves, yoghurt and other delicacies - croissants, baguette, cereals and freshly squeezed juice. There is also a cheese board including Normandy specialities.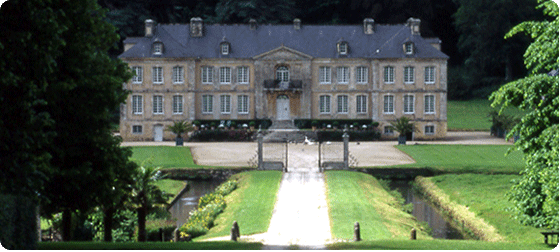 For longer stays, the estate Mill has been converted into spacious accommodation for 6 to 8 guests. It comprises 3 bedrooms, 2 bathrooms, a formal dining-room, sitting-room and library. There are 2 fireplaces with a generous supply of logs. In its romantic situation on the mill steam this tastefully decorated cottage provides comfort and calm. The Bakery has been transformed into a 2 bedroom cottage offering modern conveniences in a quaint setting. Each cottage is furnished with fine period furniture and attractive fabrics.
Annick and Jean-Jacques are delighted to help their guests to make their vacation at chateau de Pont-Rilly an unforgettable and unique experience.
In the press
Article in The Times

Information

Pets are not allowed
Open all year round.